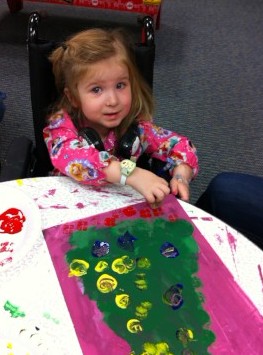 Lucy knows very well how The Lolly Project helped her! 
Lucy was born with a club foot on her left side. After several rounds of serial casting and braces she was admitted into the Peyton Manning Children's Hospital where she went through a procedure called Anterior Tibialis Tendon Transfer.
Her mother explained that after the surgery, Lucy needed a wheelchair to get around when she was allowed out of bed. One day they wandered into the patient play room, where ArtMix Teaching Artist Bella Heilbrunn put Lucy to work on an art project. "Lucy gave her first smile since her surgery while painting with Bella," said her mother.
The Lolly Project uses the arts to increase comfort levels and improve the recovery process for young patients. It is one of ArtMix's five core programs.
Please consider a charitable gift in any amount that is comfortable for you. For your convenience, we offer monthly gift levels below.
If you have questions about your gift or the donor benefits, please contact Kathy Pataluch at kpataluch@artmixindiana.org or 317-974-4123.
Thank you for making access to the arts a reality for people with disabilities!