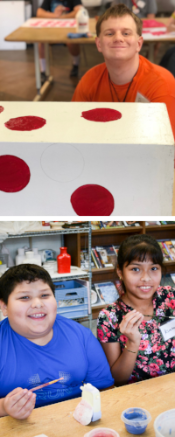 "As a parent, it is helpful to see people with experience understand why he responds the way he does, while also patiently redirecting and adapting as needed to help him succeed. My family is thankful for ArtMix." – Community Arts Class parent
Thank you for making a gift to our Spring Campaign. As noted in our benefits chart, all gifts at the $500 level will receive one complimentary ticket to the summer fundraiser with the purchase of one ticket.
If you have questions about your gift or the donor benefits, please contact Kathy Pataluch at kpataluch@artmixindiana.org or 317-974-4123.
We are grateful for your support!