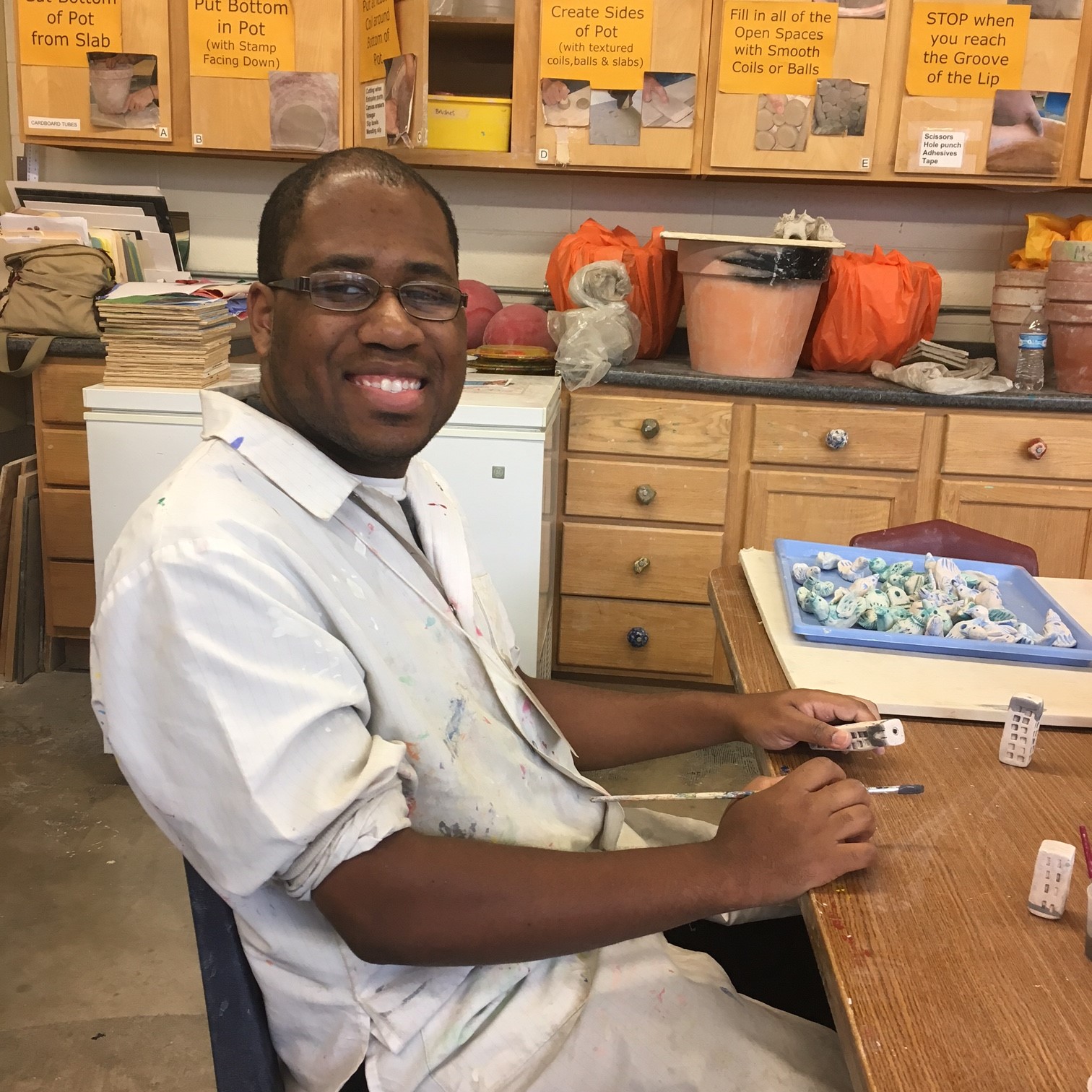 Meet David S. David is a 19-year-old intern in our Urban Artisans program, which provides vocational training through the making, marketing, and selling of art. David has been working as an Urban Artisan intern for more than a year and is no stranger to the ArtMix community. Before he became such an essential member of the Urban Artisan team, he attended Community Arts Classes for more than five years. David is on the autism spectrum, and ArtMix has truly become his community—one in which he has been able to grow and be himself. "I like [my] job because it's a fun place to come and work. Everybody is so nice to me," says David.
David says that ArtMix has helped him work on being nicer and all-around friendlier to others. In our opinion, David has mastered that! Just ask Teaching Artist Carrie King, who has been working with David during his time in the Urban Artisans program. "He is the most polite student I've ever had," Carrie remarks, beaming. "What sticks out about him: he always comes up to me after class to say bye. With this age group, you don't always get people who think about you like that." To Carrie, David's "calming presence" and thoughtfulness set him apart, and the rest of the ArtMix community couldn't agree more.
"David is a real sweetheart—very calming and friendly to the people around him." – Carrie
Of all the different tasks in the art-making process, David's favorites are painting and working with clay. He is an excellent painter, and says those skills have improved significantly throughout his time at ArtMix. As one of his supervisors, Carrie says she has seen David grow in his ability to take instruction and work in a team. She notes that the team-building experience Urban Artisans provides is something that is not always found in everyday life, which is what makes the process so valuable for professional growth. These things have helped David blossom into a confident leader—one who steps up to help others with their work whenever he can.
David's favorite ArtMix events are our monthly First Friday's, where people come from all over the community to tour our gallery and learn more about our programs. David often volunteers at these events, providing extra hands and kind words wherever needed; he is truly an asset to the ArtMix team.