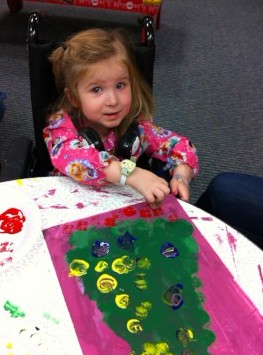 Meet Catherine Dixon (Cat), parent of Lucy who was born with a club foot on her left side. Lucy went through several rounds of serial casting and wore Ponseti braces for most of her first year. As Lucy grew, her tendons didn't stretch along with her bones. As a result, her orthopedist recommended a surgical intervention – a procedure called Anterior Tibialis Tendon Transfer. So, at the tender age of four, Lucy was admitted into the Peyton Manning Children's Hospital where she met Bella Heilbrunn, an ArtMix Teaching Artist in The Lolly Project.
For nearly 30 years, ArtMix has partnered with children's hospitals in Indiana to provide respite to children and youth living with chronic and/or life-threatening illnesses or injuries. The program was named in memory of Indianapolis educator and Psi Iota Xi member Lolly Albert who believed strongly in the impact of the arts. The Lolly Project uses the arts to increase comfort levels and improve the recovery process for young patients. We are grateful to the ladies of Psi Iota Xi, who raise funds throughout the year to support this program.
Cat explained that after the surgery, Lucy needed a wheelchair to get around when she was allowed out of bed. One day they wandered into the patient play room, where Bella was ready to put Lucy to work on an art project. "Lucy gave her first smile after surgery while painting with Bella," said Cat.
Lucy's surgery left her in a wheelchair for four weeks followed by one year of physical therapy. Today, Lucy is 7-years old and doing very well. She wears a brace on her left foot to maintain the correction as she grows and participates in extra-curricular activities. This will help to develop strength and flexibility in her foot. Lucy has her yellow belt in Tae Kwon Do and enjoys swimming and Girl Scouts. She's also in the gifted and talented program at her elementary school.
When asked how The Lolly Project helped Cat as a parent with a child going through a traumatic experience, she replied, "Not only did I love that Lucy was getting some personal attention and learning activities while in the hospital, I got to take a shower! The opportunity for self-care when I was so consumed with Lucy's well-being was an incredible help.
Bella Heilbrunn is an artist and professional art teacher, originally from Austria. She has been involved with The Lolly Project for 18 years. Having a "Riley Kid" herself, she understood what parents were going through, and knew that art could help distract the children. "It can instantly redirect their focus from being sick/in pain/lonely to wanting to create a "feel- good" art project," said Bella. Sometimes the children come to her in the play room, and sometimes Bella takes the art project to the children who aren't capable of leaving their room. When asked to tell us a story of one of her most powerful moments, Bella replied that there were too many to tell, but she did share this one, which moved her dramatically. "I was called in on my day off because a patient I had worked with wanted to see me. My little friend was on a lot of Morphine and not expected to live past Mother's Day. I brought in a few different projects that she could make for her mom. I stayed with her for three hours as she completed four projects. It was so peaceful and beautiful - I'll never forget it."