March is Disability Awareness Month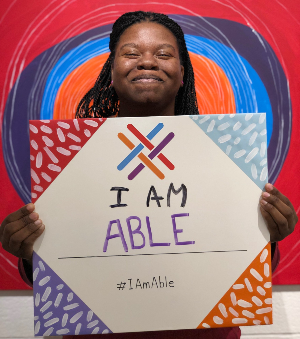 This month ArtMix is redefining disability and celebrating what it means to be ABLE with the #IAmAble campaign.
Able is defined as (1) having the power, skill, means, or opportunity to do something, or (2) having considerable skill proficiency, or intelligence.
At ArtMix we believe everyone is ABLE in their own unique way. While the large majority of the folks we serve have a diagnosed disability, we focus on what individuals are ABLE to do, rather than what limitations they might have.
The ArtMix tagline is "art redefining disability." We provide students with opportunities for self-discovery, where they are empowered to find their abilities and hone their talents.
The #IAmAble campaign aims to share a narrative that focuses on ability.
You can participate by sharing your own #IAmAble story on social media. Tell us how you're ABLE!