Transforming Lives
---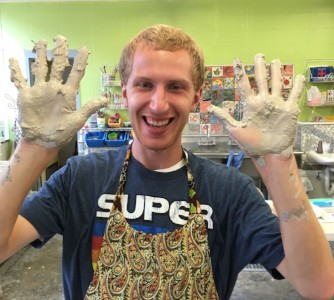 When ArtMix was established, students with disabilities were frequently contained in one classroom and did not receive art, music, or PE instruction. Teachers requested our services to bridge the gap in students' education. We responded by sending Teaching Artists into the classrooms to facilitate arts activities to support student learning outcomes.
At the same time, the arts were increasingly understood as an ideal instructional tool, being naturally inclusive of varying ability. The arts also offer multiple means of engaging learner interest, conveying information, and expressing understanding. This is important for students with disabilities who often learn and communicate in a variety of ways.
While ArtMix programs still provide access to the arts, our programs also utilize the arts as a mean of learning and skill building. In this way ArtMix provides both access to and opportunities for achievement in and through the arts for people with disabilities.
The primary participant in an ArtMix program is a person with a disability, however, our philosophy of inclusion means that all are welcome. Our participant demographics are: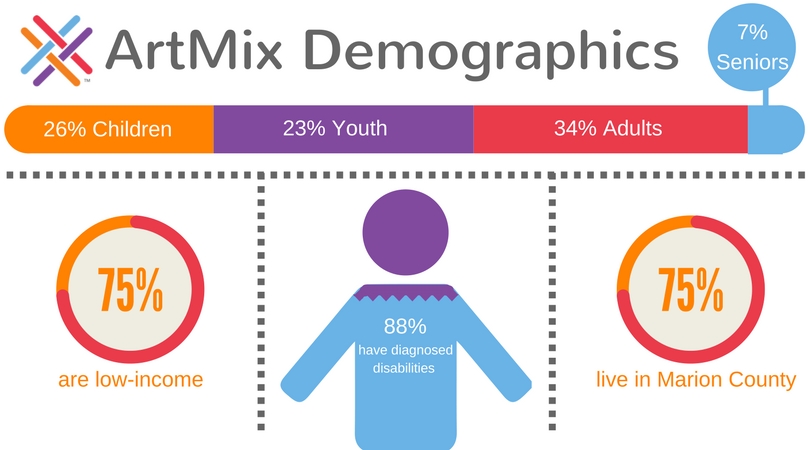 ArtMix core programs include:
Just as programs are designed to help integrate people with disabilities into the broader community, ArtMix values partnering as it reflects our philosophy of inclusion and promotes good stewardship of resources. Recent partnerships include:
hosting volunteers from Lady Gaga's Born this Way Foundation
organizing an "Artisan Alley" pop-up shop of artwork by artists with disabilities at a conference hosted by the Governor's Council for People with Disabilities,
participating in Disability Awareness Month arts exhibits at the Fishers Arts Council,
donating Urban Artisans soup bowls to Second Helpings for their Souper Bowl fundraising event,
sponsoring a Clowes Conversation event on the Butler University campus with a panel of college students sharing their personal stories about art and disability, and
providing ongoing volunteer and internship opportunities for students from Butler University, IUPUI, University of Indianapolis, and Valparaiso University.