The Lolly Project - assisting in pediatric healing in hospitals
---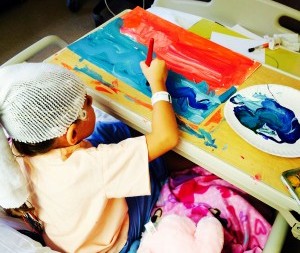 The Lolly Project, named in memory of special education teacher Lolly Albert, makes art activities accessible to children and their families who are being treated at central Indiana children's hospitals.
The art activities bring a respite from medical procedures and decisions to children and their families who are typically being treated for a serious illness involving an extended hospital stay. The program offers children and teens an outlet for creative expression and welcomed parental involvement. After each session, participants leave with art to display and feel proud of, and that family will treasure for years.
The Lolly Project is funded in part by Psi Iota Xi, a community service sorority that Lolly Albert loved.