WorkSmart - team building through the arts
---
The WorkSmart experience is ArtMix's team-building initiative designed to offer your team a fun, interactive art experience. Our inclusive and adaptive art studios provide a relaxing environment outside of the usual work setting for teams of all sizes and people of all abilities. Our professional teaching artists provide a tailor-made experience for your group based on your desired outcomes and needs.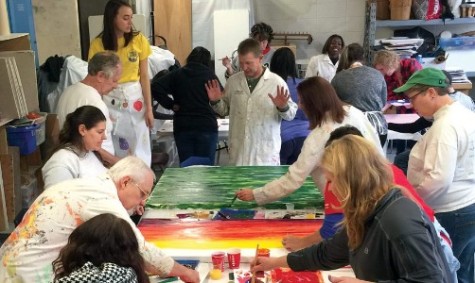 Each WorkSmart experience is designed to:
Jumpstart collaboration
Strengthen team cohesiveness
Foster problem-solving skills
Cultivate productivity
And unleash overall creativity 
---
WorkSmart has three different two-hour experiences, each designed to engage your team at a specific level. No previous art experience is required for any option. Groups can choose from painting on canvas OR creating with clay for any of the following options: 
Mix & Mingle
In Mix & Mingle each participant will create his or her own piece of artwork. While our teaching artist guides you through the project, you can socialize, have fun, and get to know your teammates in a relaxing environment. At the end of the session each person will take home their own creation.
Creation Rotation
During Creation Rotation, with instruction from the teaching artist, each participant will start by creating his or her own piece of art. After a set amount of time, each member will rotate and continue working on their neighbor's piece. By the end of the session each person will leave with a collaboratively created piece of art.
Collaborative Vision
When groups participate in Collaborative Vision, the entire team will work together to create a masterpiece that represents your organizational vision. With the help of our teaching artist, your team will determine an overall design and each member will contribute to the finished piece.
Pricing
Groups up to 15: $750
Groups 16-30: $1350
Groups 31-45: $1800
Have a business meeting to conduct? Use our studios for one hour before or after your session for just $75.
For more information and to schedule your WorkSmart session contact Jessi Klein at jklein@artmixindiana.org or 317-974-4123.