Our Mission
ArtMix transforms the lives of people with disabilities through the creation of art.
---
For over 35 years, ArtMix has been a statewide leader in its mission to transform the lives of people with disabilities through the creation of art. Based in Indianapolis, ArtMix programs serve over 6,000 people of all abilities each year, creating opportunities for learning, self-expression, and socialization as well as increasing community understanding of people with disabilities.
The seeds for ArtMix were planted in 1980 when an adaptive community arts festival for people with disabilities was developed by a local artist. This festival was soon replicated for other communities throughout Indiana and an organization called "Arts Unlimiting" was established. In 1982 Arts Unlimiting was formally incorporated as a 501c3 nonprofit and in 1986 the organization became "Very Special Arts of Indiana" to serve as the Indiana affiliate of Very Special Arts.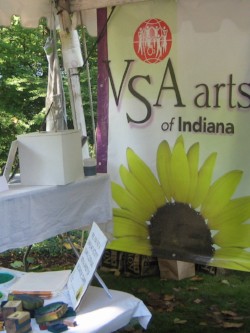 Ambassador Jean Kennedy Smith, sister of President John F. Kennedy, founded Very Special Arts in 1974 to create a society where people with disabilities learn through, participate in, and enjoy the arts. Very Special Arts, now known as VSA, is an international educational program of the John F. Kennedy Center for the Performing Arts in Washington, DC.
In July 2015 we revealed our new identity as ArtMix: art redefining disability. We worked with local consultants in rebranding and graphic design to create a new name, tag line, and logo that better reflect our creative, collaborative, and inclusive philosophies.
ArtMix has a history of offering programs and services that are innovative, reflective, and based on best practices. This careful attention to planning, implementation, and evaluation has garnered local and national recognition. Most recently, in 2015 ArtMix travelled to the White House to accept a National Arts and Humanities Youth Program Award. This award recognizes ArtMix as a national model for creative youth development, making a difference for young people with tremendous potential but limited opportunities
With a strong record of program success and demonstrated institutional resiliency, ArtMix is poised to continue to transform the lives of people with disabilities through the creation of art. Join us for the next chapter in our "art redefining disability" work!