ArtMix is an Indianapolis-based nonprofit, transforming the lives of people with disabilities through the creation of art. With five core programs and additional special projects, ArtMix serves more than 6,000 people annually.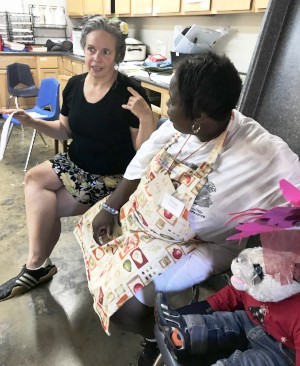 ArtMix was created to address a community need that still exists today – access to the arts for people with disabilities. Nearly 1 in 5 people in Central Indiana have some form of disability (2010 Census), a physical or mental impairment that substantially impacts one or more major life activity such as learning, self-care, and communication.
People with disabilities encounter barriers on a daily basis, steps and curbs for example, however, misconceptions of disability can often be more disabling than the disability itself. People with disabilities are often identified by their disability, excluded, and devalued.
The needs of people with disabilities are as varied as the needs of people without disabilities, however, many disability services are narrowly focused on health and housing, and omit or neglect personal and community-based needs. These latter needs are crucial elements of what it means to be human; to have personal interests, opportunities to pursue them, and connections with the community.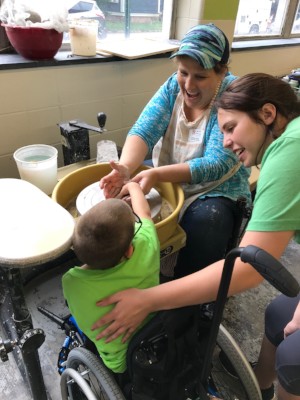 ArtMix programs fill a gap. Disability service providers and arts organizations typically offer only intermittent and isolated arts programs for people with disabilities. ArtMix programs reduce and eliminate actual and attitudinal barriers through ongoing, adaptive, and inclusive arts programs that position all participants as capable and able creators. Outcomes include learning, skill building, self-expression, and personal growth.
For many of the people we serve, ArtMix studios and programs provide a friendly, safe, and welcoming place. For people with disabilities, both our physical location and our programs create a place to belong, where they are accepted and valued. Because people with disabilities face barriers daily, this sense of belonging is crucial.
Also, while art is sometimes thought of and valued only as a finished product, at ArtMix art is both the finished product as well as the process of creating. Embedded in the process are these outcomes that are crucial to human development and quality of life.
ArtMix provides:
adaptive equipment and trained Teaching Artists skilled in adapting arts lessons for people of all abilities;
a focus on participant abilities rather than their disabilities;
ongoing programs for people with disabilities; and
inclusive arts programs that encourage people of all abilities to create together.